Svetlana Prodanova October 2019: Health, health, health. We hear this every day and see it in all shapes and forms. It is fashionable but is it a fashion that leads to something suitable for everyone.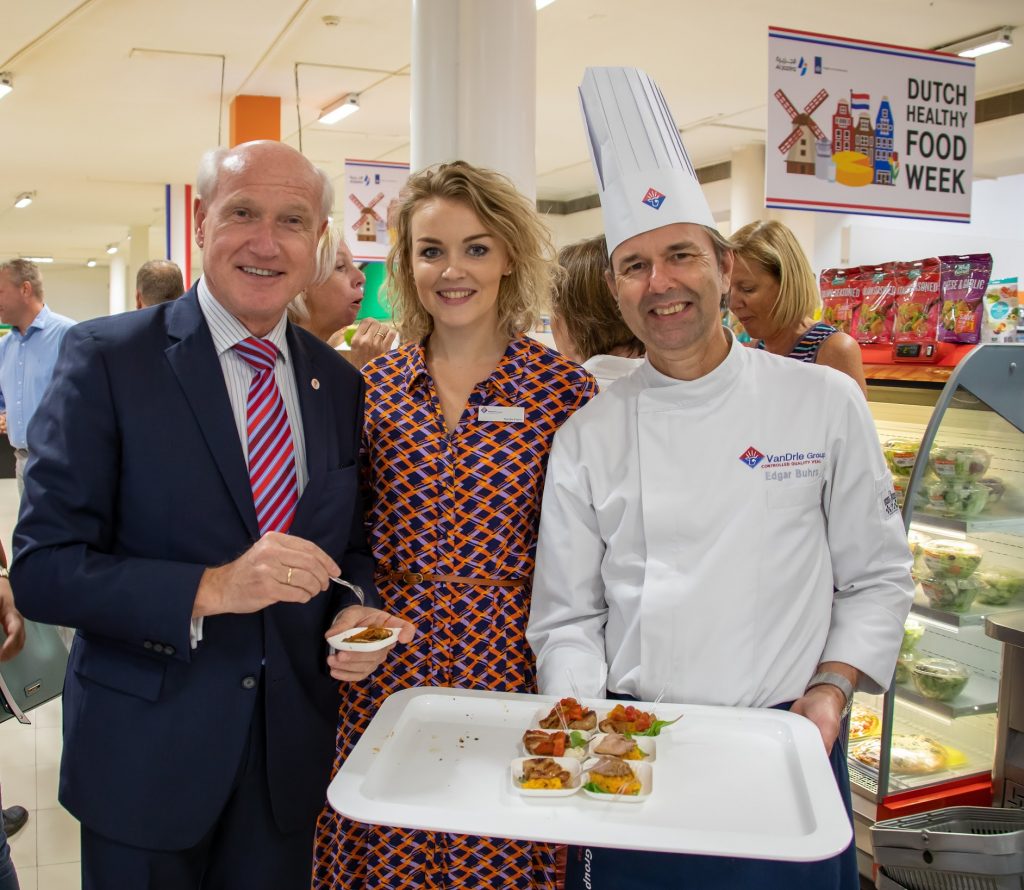 On Monday 7th October, the trendy healthy brigade were joined by personnel from the Dutch Embassy of Kuwait and Bahrain at a seminar held at the Capital Club Bahrain. At this gathering we witnessed several keynote presentations and multi-actor interdisciplinary, interactive group exercises
The goal is to increase awareness and exchange knowledge towards building a healthier generation in the Kingdom of Bahrain. The Dutch Healthy Food Week officially started on Sunday, in Al Jazira Supermarket, Mahooz, (a suburb of Manama the Capital) which was inaugurated by H.E. Frans Potuyt, Nederlands, Ambassador. Also present at the event were members of the Dutch community, embassy figures, media representatives, and Al Jazira Supermarket officials.
Keynote speakers were:
1. H.E. Frans Potuyt, Ambassador, Embassy of The Kingdom of The Netherlands;
2. Mr. Erik Smidt, GCC Agricultural Counsellor, Embassy of The Kingdom of The Netherlands;
3. Dr. Buthaina Ajlan, Head of Nutrition & Public Health Consultant, Ministry Of Health;
4. Mr. Maarten Smit, Director GMBS Business Support;
5. Dr. Sultan Al Temyat, Consultant Bariatric Surgery Badana Clinic;
6. Mrs. Marijke Everts, Director Corporate Affairs VanDrie Group.
Among the topics discussed were the healthy and fresh production observed in Bahrain & Saudi Arabia; the compulsory government policies for a healthier Bahrain that will be enforced in 2020; food and lifestyle choices – fighting obesity and nutrition. The session ended with the informative video why should the veal be on our menu and the health benefits of it.
It was promising and inspiring to see many young enthusiastic students from Vatel attending the seminar. Vatel, by the way, is the 1st Worldwide Business School Group in Hospitality and Tourism Management University, now opened in Bahrain. The students were actively taking part in the group work, which theme choices were:
1. Healthy Households
2. Food Security and Food Waste
3. Awareness Building and Educating Our Next Generation
4. A Healthy Society – Economics and Communication
5. Sustainable Shopping Experience
The groups demonstrated excellent knowledge and made valuable suggestions towards the desire to change the unhealthy habits of future generations.
Of course, I have to mention and the venue, Capital Club, which 5-star service and style are well-know to the Bahrain citizens, members, residents, and guests with the fantastic food and beverages, comfort, relaxing ambiance and unforgettable view, which you can enjoy for hours.
Health, health, and more health. It is everywhere and in everything.
If you have any ideas that you want to share or projects, please do not hesitate to contact us for support or publicity.
For more photos of the event, click here: https://bit.ly/33O5aEr