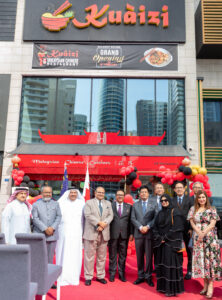 BLOCK 324, ROAD 24, BUILDING 47, SHOP 16
WEDNESDAY, 15 FEBRUARY 2023, 14:00
Finally, the wait is over! After six (6) months of soft pre-opening, we wish to welcome everyone for our official opening, Taste of Malaysia: Opening of Kuaizi Restaurant, the one and only authentic Malaysian cuisine in Bahrain. The event will be held on Wednesday, 15th February 2023, at 1400 hours (Details of the venue: Al Najmah Walk, Manama, Juffair, Block 324, Road 24, Building47, Shop 16).
The event will start with the welcoming remarks by Mrs. Fatima Mohamed Shahid Shaikh, the owner of the Restaurant, followed by a brief introduction of Malaysian authentic cuisine by His Excellency Ambassador Shazryll Zahiran, Ambassador of Malaysia to the Kingdom of Bahrain. The event was officiated by Her Excellency Ambassador Fatima Abdulla Al Dhaen, Chief of Asian and Pacific Affairs Directorate, Ministry of Foreign Affairs Bahrain.
The aim of the event is to actively promoting variety of authentic Malaysian food to increase the gastro diplomacy exposure in Bahrain. Following remarks by the Ambassador, we will have the official opening of the restaurant. Guests will be indulged with authentic Nasi Goreng (fried rice), Mee Goreng (Fried Noodle) and Charkuey Tiaw (Stir-fried rice noodle).
At Kuaizi, we believe that food is everyone's best friend. Hence, we wish to have your presence at the opening of our restaurant. An incredibly rich and flavorful dining experience awaits you! Have a taste of our unique array of culinary delights that will surely make you remember the true authentic Malaysian cuisine. We look forward to welcoming you to the Taste of Malaysia: Opening of Kuaizi Restaurant, along with your family members and friends.