Opinions expressed in this column are not necessarily those of Whodoeswhat.tv
April 18th 2019:                                                              By Sawyedullah   
A ROHINGYA STUDENT'S PLEA FOR AN EDUCATION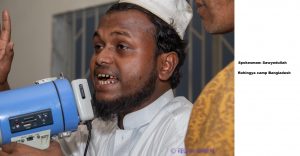 Refugees in Bangladesh need access to formal education based on the Myanmar curriculum so they can contribute to society once they return.
Rohingya refugees want the Myanmar education curriculum to be taught in the refugee camps in Bangladesh. It's been almost 2 years since we were forced to flee the genocide in Rakhine State and we still have no access to education.
In every country around the world, education provides students with the knowledge they need to prepare for the challenges that life brings. It can also make them more aware of the political, social and economic situation in their own country.
By understanding these challenges, students can work to improve their country and build a better future.
Young Rohingya refugees want the chance to do that. We want to continue our education so that we can make a useful contribution to our country, Myanmar, when we return home.
We want to speak the Myanmar language, know the Myanmar law and understand Myanmar history.
When we go back home we want to become doctors, lawyers, teachers, and policemen.  We want to help build a peaceful, inclusive Myanmar.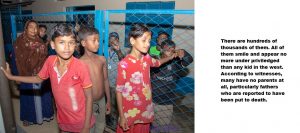 We cannot do this without an education, the right to which is enshrined in the Universal Declaration of Human Rights.
I was born in December 1991 and I was a student of university age when the Myanmar military forced us to across the border into Bangladesh. I have been serving as a student leader with the Arakan Rohingya Society for Peace and Human Rights (ARSPH) since October 2017, so I am familiar with the challenges that the refugee community – particularly its younger members – faces.
There are many refugees, possibly hundreds of thousands, who, like me, have had their education interrupted.

There are more than one million of us in the refugee camps in Cox's Bazar. We live under tarpaulin shelters and face so many daily difficulties such as the extreme heat, water shortages, cramped conditions and disease outbreaks.
Education would bring us hope. Hope is something we really need right now.
During the past 19 months donors have given millions of dollars towards the provision of education in the camps, and there have been repeated calls from a range of voices to address the situation. So far, though, we have seen little sign of improvement.
There are many NGOs and INGOs in the camps. Though some of them have experience in providing education, there are no opportunities for middle school and high school students to learn.
There are no education centres in the camps, only child-friendly learning spaces. These spaces are only for young children. Each NGO has their own curriculum for these spaces, and none of them will be recognized by the Government of Myanmar.
We are concerned that NGOs and INGOs are mainly interested in ensuring a long-term role for themselves in the camps, rather than helping the Rohingya community go home.
If they were focused on helping us go home, then they would be trying to get the Myanmar curriculum taught in the camps. It is possible to do this. It is happening in the Karen refugee camps in Thailand so it should happen here in Bangladesh as well.
We are thankful to be getting enough food and shelter in Coxs Bazar, but there is no future for us in Bangladesh because it is not our country. We wonder how long we will be allowed to stay.
We belong to Myanmar; it is our home.  We want to go home and be full citizens of Myanmar. But we can only contribute as citizens if we have an education.
All photographic rights reserved:  Who Does What.tv – Svetlana Prodanova